"Buttons come and buttons…" I paused
"GO!" Joey blurted out with a huge smile. He has just started finishing off the last word in Pete the Cat's reassuring mantra, and he beams with pride each time he does.  With that last GO, I closed the book and smiled.
This time Joey did not join me.

He burst into tears, which is how he sometimes expresses his displeasure when a book ends. When I first met him, these bursts of tears were guaranteed every time a book ended. But as he's become better able to communicate with us through his AAC device, gestures, and his oral speech, I've observed a decrease in these sudden fits of sadness. Not today though.
I leaned into the AAC device and built the sentence "You feel sad."
"YES" Joey selected, and looked at me with satisfaction. I'd identified his feelings and he confirmed them.
It seems simple, but this is a back and forth exchange using the eye gaze system. To me, this feels huge.
Earlier in the week, I could tell Joey was getting a bit tired as we read Chicka-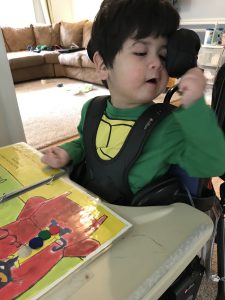 Chicka-Boom-Boom. (After all that work, and he was becoming less and less of a fan.) To note his growing frustration, I started to build the sentence "You feel" when suddenly he took over with "sleep".
"Oh!" I responded. "Are you tired? All done?" I asked, selecting the All Done icon. I put the book away and Joey used the device to say, "Thank you". He looked at me with relief.
This small back and forth seems so simple, but it's not.
We had a conversation.
A few months ago  I was celebrating that Joey used the eye gaze system to select ONE word so that he could get help and have his nose blown. And now he is not just telling me how he's feeling, but we are having a back and forth conversation about it.
Later, he requested to play ball, and then said, "Thank you" when I went to get the balls. "How many balls?" I asked, and he selected "Three".
Joey's always been able to use whatever resources he has around him to express his wants and needs through his engaging eye contact and by providing emotional responses of crying and laughing. But now he is starting to model conversational exchanges with words. This opens him up to being able to relate to someone, instead of just relying on others to meet his wants and needs. Because what Joey really wants, I suspect, is not to have the ball itself, but to experience the fun of playing with the balls together. The more he wants to communicate with those around him, the more he will drive himself to communicate with us.