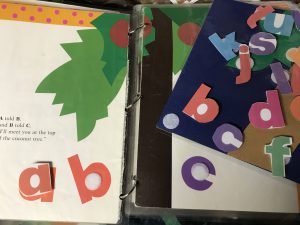 A popular book in preschool and kindergarten classrooms is Chicka Chicka Boom Boom by Bill Martin Jr and John Archambault. It is a silly story about the lower case letters all climbing up a coconut tree. Of course, when all 26 letters get to the top of the tree there is not enough room and they all fall out (Boom!) and the uppercase letters come to help them up. It is a cute, rhythmic way to get familiar with the letters of the alphabet, and seemed like a book that Joey would enjoy.

After deciding to use Chicka-Chicka-Boom Boom with Joey, I started to plan ways I could adapt it to make it better for Joey's needs. Although Joey is always attentive during read alouds, I like to find ways to challenge him and use the books to work on his goals. I do not want him to be a passive participant in the book, but an active, engaged one.
Making physical adaptations:
Since my personal copy is fairly beaten up from years of classroom use I decided to cut out the pages, laminate them, and turn the book into an interactive version. I used my color copier and copied the alphabet from the end pages of the book. I laminated the copies, cut out each letter, and added velcro so that each letter in the book can be taken in and out of the book. This will work on Joey's visual motor skills and will encourage him to use his arms and fingers to reach a letter and pull it off the page. I made an additional laminated page of a coconut tree with velcro, so that Joey can take the letters off the book and put them into the tree, or take them off the tree and put them into the book.
When it is time for Joey to put the letter back onto the page, he will be able to use his matching skills. If he is holding the letter a he will need to decide which letter on the page, a, b, or c, will match the letter in his hand.
Why focus on matching?
As adults, matching letters of the alphabet seems easy, but our brains have already learned to carefully differentiate between the small details that make each letter unique. We can see that a c is almost a full circle, but not quite, while an a is a full circle with a line on the right. When children are learning letters, it can take time for them to attend to these small differences. One's brain must be able to differentiate between a lowercase a and a c, as well as an r, n, and h, if one hopes to read.
Think about the similarities between the r, n, and h. The r is simply an n that was not finished, and an h is an n with a stick. As a teacher in a Title 1 elementary school for 13 years, I found that it was not uncommon for children who have not been exposed to letters in preschool or had home learning opportunities to have difficulty distinguishing between the r, n, and h, or the a, c, o, and e. If a child only attends to the general shape of the letter he or she will not notice the small, distinguishing details that make the letter unique.
Although it is not age appropriate to expect a three year old to learn every letter name right now, I do want Joey exposed to the differences in the individual letters. Chicka-Chicka-Boom-Boom will be a fun way for us to play with letters and draw Joey's attention to the individual differences.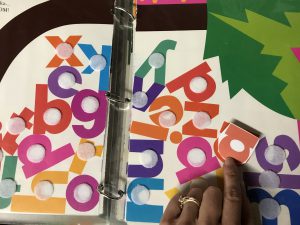 Incorporating Play and Meaningful Communication:
I am also excited about the moment when the letters fall off of the tree. I've found with Joey, as well as with other children this age, that creating a moment when something falls out of something else, is a great way to foster engagement, build an understanding of cause and effect, and experience serve and return (hyperlink to previous post) reciprocal communication. Who doesn't love emptying a bucket full of items and watching everything fall to the ground? Especially when it is paired with an exciting "Oh no…. Chicka, Chicka, BOOM! BOOM!" I hope this page of the story will be a place where we can pause and play. Hopefully we can act out the story a few times, putting all the letters into a container and then dumping them out. I find it difficult to fully plan for meaningful, reciprocal communication because often, if we plan for a scripted back and forth discussion, it is no longer meaningful, and often becomes flat and unnatural. I hope that the play on this page will let us pause and have some fun.
Including Speech and AAC Goals:
Another of Joey's goals is to work on prepositions and opposites. This book is perfect for working on up and down, because the letters all go UP (which also happens to be one of Joey's words he can say orally) and then fall down. Up and down are also on his eye gaze device, so I will be able to incorporate the device onto the page.
I've read the book through a few times to look at ways to incorporate the AAC , but I am not fully happy with the natural opportunities. Other than when the letters go UP and fall DOWN from the tree, there are not many of Joey's core words, or at least not many. Instead of relying on the words in the book, I am going to add my own words to many of the pages. Since more letters are coming up the tree with each page, we'll add in the phrase "here come more".  I will be able to model using the device while I read, and will also be able to encourage Joey to finish the sentence for me after I say "here" he can select "come more".
Now that I have the book ready to go, we'll see how Joey responds. Often perfect plans can go in entirely different directions once the child gets involved (which is, of course, exactly what should happen.)