This week we used a variety of body positions while completing a familiar task. Joey liked putting the squigz in the box, but his head and neck wore out being held upright, so we tried it in tall-kneel (on knees but bottom does not touch feet) with his right arm holding his weight on the peanut ball. A peanut or stability ball is a great way to challenge the core a little more than just sitting or leaning on the ground—because it is inflated, it is constantly changing in tiny ways and forcing the body to react and utilize all the muscles to keep the body stable, rather than just a few of the large, surface muscles and not activating the deep postural muscles. The more we can get Joey's core muscles to fire together, the stronger he will get.  This also allows him to have improved postural endurance, or ability to hold himself upright over time.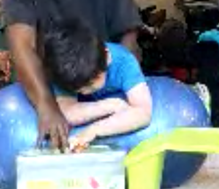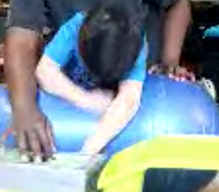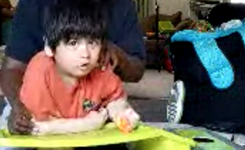 Week Three Areas of Challenge: figuring out how to give Joey challenges graded up or down without being there in person. Grading is OT talk for making it easier or harder to  complete a task depending on the level of ease and frustration the child is having in the moment. You want to hit a just right level of desirable difficulty—hard enough that he has to have his brain and body fully engaged but not so hard that he becomes frustrated and gives up on the task or melts down.
Week Three Areas of Success: finding different body positions to complete a task in order to build core and postural strength and stability. We don't just do an activity at the table, we crawl, tall-kneel behind a ball, or push into both arms with his head up while on his belly.