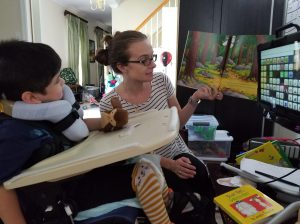 When I arrived at Joey's house on Friday afternoon he was in a great mood. He was giggling and excited to read, and his personality shone throughout our whole session. We were reading The Gruffalo, which is about a mouse and an imaginary yet real scary monster. As we read about the scary Gruffalo with his terrible teeth in his terrible jaws, I tried to use it as an opportunity to model using body part words like teeth, tongue, knee, leg, back, etc.
I am not sure if he meant to or not, but every time I asked Joey something where the answer should have been teeth, he selected the word tongue. The words are next to each other, and at first I thought it was an accident, and that he was having trouble selecting the correct word. I'd select teeth for him, and he'd quickly click tongue after I'd hit teeth. Hmmm….  "Are you playing with me?" I asked, and he began to giggle. "Love tongue" he responded.
Later in our session he giggled at everything that silly turkey did in Red Hat, Blue Hat, and giggled whenever we used his device to say "Uh oh" when the turkey was dressed wrong.
As we neared the end of our session Joey went into the words and hovered over the word fall. He didn't select it though, so the screen remained on. Then he picked up the stuffed owl he'd been playing with, held it up high, verbally said "up!" and the dropped his owl. After it fell he turned back to his device. "Fall" he said proudly.
Yup. He labeled exactly what happened – owl went up, and then it fell.
Although the moment made me smile because Joey was so intentional about dropping his owl and labeling it, the falling owl also reminded me about how difficult it must be to communicate on the AAC device. How often do I review words I'm going to say silently in my head, ahead of time? How often do I plan out my speech? Joey may be able to do that internally, but that doesn't help him pull the words up onto his screen any faster. And when he does know a word he wants to use he may get frustrated or have trouble finding it before the incident and selecting his word. How often do I assume Joey randomly selected a word, or that he hit the wrong word, when really Joey was simply trying to label something that happened many moments before.
The "fall" incident reminded me to continue to presume competence when I'm working with Joey, and to continue to give him significant wait time when supporting his work on his device. It also served to show me just how much Joey is planning his communication ahead of time. This forethought, while small, represents the beginning of important executive functioning skills Joey will rely on the rest of his life.