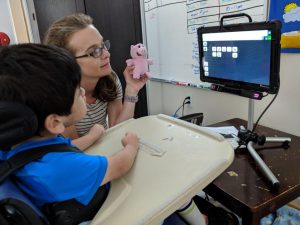 "Love Silly Reading" Joey shared with me, and then looked in the direction of my book tub stacked behind me. "Silly reading" seems to be his new phrase for asking to read Elephant and Piggie books by Mo Willems. It is a pretty accurate description. The books are silly, and yet, have the opportunity to offer so much to our sessions.
I've long been a big fan of Mo Willems' books. They are usually highly motivating to readers and often encourage active engagement. I particularly love the Elephant and Piggie series because Willems is often able to take rather large concepts that children may struggle with and break them down into small, manageable steps through the dramatic yet simple conversations between a pig and an elephant. While they may seem ridiculous and simple, I'm also able to use these stories to teach greater lessons – waiting is hard, the importance of sharing, trying different strategies, don't give up, and consider new perspectives. Big ideas inside books most first graders can read independently.
For Joey, these books have become an excellent way to practice core vocabulary on his AAC device. The illustrations are simple so it is not likely he will become distracted by unnecessary details on a page. We can talk about the character's emotions and use his device to label these emotions. We can make simple sentence "He is sad" or "He is silly" and even practice using those -ing verbs like "He is running" He is sleeping," "He is playing ball". And of course, Joey loves to label the pictures "Silly funny" as we read.
One of my favorite Elephant and Piggie books is A Big Guy Stole My Ball. I use this book often with all children because it teaches perspective taking. In the story Piggie runs to Gerald to tell him that a big guy stole his big ball. As the story goes on (in its pure, dramatic fashion only Mo Willems can capture), Gerald discovers that the big guy is a whale, it was actually the whale's ball, and what's more, the whale thinks the ball is small.
This big/little debate provided Joey and I the perfect opportunity to practice using those size labels of big and little. We also could spend time comparing items that were big and those that were small, and putting items in order from smallest to biggest, and biggest to smallest.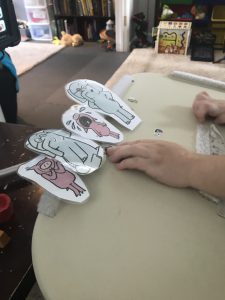 I laminated my copy of A Big Guy Stole My Ball, made color copies of some of the pages, and with velcro made it possible to take the characters on and off the pages. Now, Joey can pull off Piggie and the whale and compare which is bigger and which is smaller. We can line all of the Piggie and Gerald characters up on his tray and compare how the character's emotions change over time. I can say "give me the sad Piggie" and Joey will scan all of the piggies and pull off the one that looks the saddest. What's been even better about this adaptation is that it's essentially created Elephant and Piggie manipulative to use with our other activities. Now we can make ABAB patterns across Joey's try out of laminated Elephant and Piggie pictures. Joey can tell us what comes next – Elephant or Piggie – as we put them down on his tray after he's pulled them out of the book.
We're able to have a lot of fun with this books, so it is no surprise that Joey sometimes interrupts me to say "Love silly reading" while looking toward his Elephant and Piggie books. I love silly reading too.