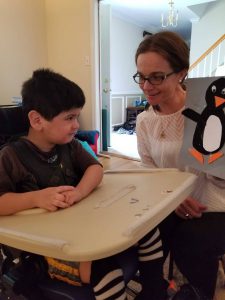 Although Joey loves art projects I often struggle to find appropriate projects he can access easily. Painting projects always please him, but it usually ends up being a rather large mess and I can only get paint on someone else's carpet so many times a month. Painting also tends to be over quickly and does not always allow him to be overly independent or purposeful.
To prepare for Joey's upcoming beach trip we read Penguin Goes on Vacation by Salina Yoon. I wanted to do a penguin art project but black paint intimidated me, and construction paper tends to be hard for Joey to hold without crumbling or ripping.
Instead I tried something new. I had black felt with a sticky backing from a craft store, which I pre-cut into shapes for the penguin's body. A circle for the head, an oval for the body, and two long narrow pieces for the wings. I also pre-cut foam feet and a triangle for the penguin's nose, and a smaller white oval for the stomach.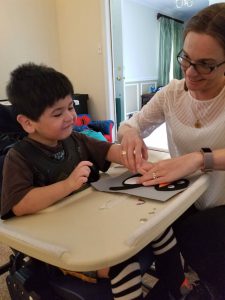 The sticker-felt sheets worked beautifully. After I started peeling a piece of the backing off the felt Joey was able to grip the paper. He could help me pull off the rest of the backing. Once the sticker was ready to be put on the paper I handed it over to Joey. The felt was firm enough that it maintained its integrity even if Joey accidentally scrunched it. He was able to put it onto the paper (with my gentle guidance). The felt texture gave him a bit of tactile feedback, which seemed to make him more aware of what he was doing. He was able to put the sticker parts of the penguin together onto the paper.
Unfortunately, I didn't have foam stickers for rest of the penguin parts, but Joey helped me squeeze out the glue and together we were able to piece together the rest of the penguin.
With each step Joey used his AAC device to tell me what other body parts the penguin needed. When we finished, I used the device to tell Joey "I like your penguin." Joey looked at me, the penguin, and then to my sentence that was still sitting on his device. He hit it three times quickly.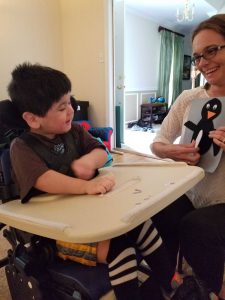 "I like your penguin. I like your penguin. I like your penguin," he repeated, grinning.
Although his smile would have said it all, he was happy to use words to tell us how much he liked his work.
I'm excited to have discovered how successful we can be using the felt with a sticky back. I suspect this is going to open up all sorts of ideas for more projects in coming months.