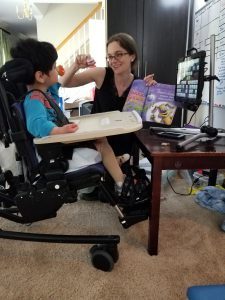 It's appropriate that one of Joey's current favorite books is Groovy Joe's Dance Party Countdown since he shares a name with the main character. Groovy Joe loves music, and in this story, he's forever being interrupted by knocks on his door with additional dogs who want to rock with him. By the end of the story there are eight dogs in the room and less space for Joe, but does Joe get upset? "Goodness no!"
Groovy Joe is written by the same author as the original Pete the Cat series and has many of the same picture book characteristics that work so well for engaging kids with communication needs. The story is repetitive but lively, and the repetition includes a short song as well as some repetitive phrases, so the children can participate musically as well as verbally as they become familiar with the pattern.
Joey likes to hold a maraca, egg shaker, or even bang on a drum, to participate in the repeated song within the story "Disco Party, Bow Wow!" Providing him with an instrument gives him the ability to be a part of the story experience and holds his attention. He listens for his part of the story to come and recognizes the book's pattern. As the words get closer to the moment when he can shake his bell his face lights up. He knows what's coming next.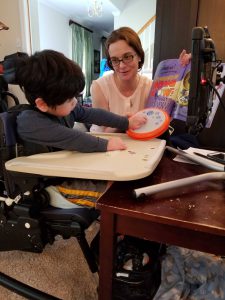 After a few readings Joey started orally participating in the repetitive line of "Goodness no!" Because the line before is always "Does Joe get upset?" Joey has a cue that it's his turn. At first, he used his AAC device to select "no" after I said goodness, but now he'll utter what he intends to be "goodness no!" along with the story.
The book has also provided opportunities to practice those core vocabulary words on his AAC device. Joey can "help me read" by selecting the question word who when Joe asks who's at the door in knock-knock format. Joey can use his numbers on the AAC device to identify how many dogs are at the door and respond, "4 who?". He can even work on making the phrase "4 more dogs". As more and more dogs come along, Joey can use his eye gaze AAC device to count the dogs or answer the question "How many dogs are there now?"
Once again, Eric Litwin has proven that he understands what makes an engaging book for young readers. Joey and I approve.