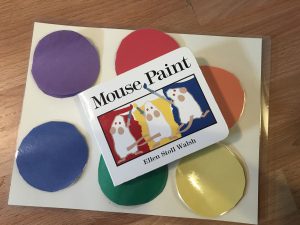 As I mentioned last week, Joey's data has reflected that although he is talkative during read alouds, he is the most talkative when he is engaged when we are playing with a ball or a toy car. My goal for this week was to find a book that would let me keep working on Joey's academic goals, while also providing us with an opportunity to play ball. I have also been waiting to read Mouse Paint by Ellen Stoll Walsh with Joey for awhile and while it does not have anything to do with balls, we can bring balls into the play by working on colors and counting, which are themes addressed in the book.
Mouse Paint is a cute story about three mice finding three jars of paint (red, yellow, and blue), and slowly discovering that if they mix the colors they can make new colors. The language from the book is simple, but still tells a story with a beginning, middle, and end that can be acted out.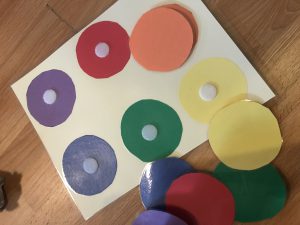 The most obvious academic task to work on when reading Mouse Paint is the names of colors. We have also worked on these when we read Pete the Cat, and Joey seems to have a strong understanding of color names. Reviewing concepts is always important, and it gives him another opportunity to use his AAC device to help read the story. We can pause before we read a color and let Joey select the color in the picture.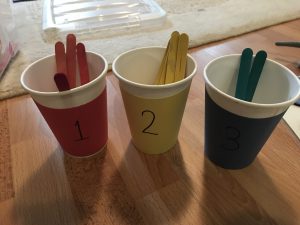 We also have colorful balls to use as an extension of this activity. After reviewing color names, I am hoping Joey can request a color ball and I can roll that ball to him. I want to be able to follow his interests to promote his language development, so that he is not just using language to labeling items but also in order to participate in an interactive game with another person. Joey can use the AAC device to tell me what color ball, or even how many balls he would like to have. He of course, can always orally say the color or number as well.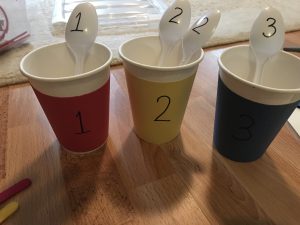 In addition to using the book to review colors and matching, we will also use the book to match numerals and their amounts. The red cup has the number 1 labeled on it. This will allow Joey to put a matching numeral into the cup (the 1 is written on a spoon and an Easter egg.)We can also fill the cups with colored sticks that match the amount on the cup.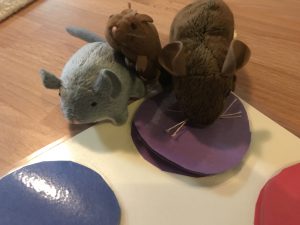 And of course, I have three mice toys that can be used to act out the story. Each mouse can go in and come out of a colored cup. This activity will let us work on retelling the story, as well as focus on the prepositions in and out. Joey has those words on his AAC device, and I hope he can select the words to tell me if the mice should come out or stay inside the cups.